Private and Semi-private Yoga Lessons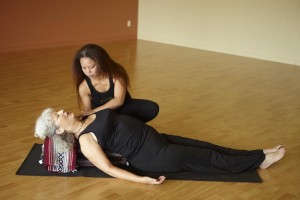 Receive instruction on asana (postures) and all other aspects of Yogic process.
Private and semi-private classes are available and accessible to all motivated seekers. You will receive the personal attention of a Yogin dedicated to helping you cultivate your practice, regardless of your level of ability or experience.
Private/semi-private sessions can help you:
Establish a home practice- Evaluation of your personal goals, strategizing how to make your practice consistent, and a written practice plan.
Work with physical challenges or injuries- Work one on one with students who have a variety of needs including but not limited to: stress management, sports training, managing menopausal symptoms, arthritis, hypertension, neck, back, and other acute and chronic physical injuries.
Deepen the therapeutic effects of your practice- Feedback on how to properly perform yoga postures and adaptations for the client's individual goals and body.
Grow in physical or spiritual elements of your practice- Apply proven yogic methods, that are most relevant to you now, to increase your sense of fullfilment and joy while mastering your emotions and lead a more successful life.