Corporate Yoga – Yoga at Work
"The opportunity to do yoga at work has made an incredible impact on how I function throughout the rest of the week. It helps me remain calm and centered throughout the busy workday."-  Kirsten A. Peterson- Production Artist, Isagenix
Health is Wealth!
Inner Vision Yoga has been providing professional programs to teach yoga in a corporate setting since 2002.  Is it time for our professionals to benefit YOU?  Let all of this experience of bringing yoga to the workplace help bring out the best in your employees for YOU!
Here are just SOME of Inner Vision Yoga's corporate clients:
Intel Corporation
Whole Foods
Isagenix
Gila River Indian Community
Woods School
Usery Regional Mountain Park
Tent City Prison Program
Compadre High School
Several Cancer Clinics
Numerous Group and Social EventsOn-site programs available!
Inner Vision Yoga brings yoga directly to YOU!
WE provide qualified, experienced and certified teachers. YOU provide the students your employees and the classroom space.
Sessions can last 10 minutes, an hour, or longer.
Classes usually meet one to two times per week
Single class or multiple month contracts are available to suit your business needs and budget.
We also offer private sessions in one of thfree beautiful yoga studios in Tempe, Ahwatukee or Chandler if your space does not allow…

Get the Best from your Best!
Focus. Productivity. Results. It's as simple as that. The performance of a corporation depends on the performance of its key assets employees. Healthy employees are more productive and more cost effective.
Yoga classes on site offer a low-cost and innovative solution for companies wanting to reduce health care expenses, relieve workplace stress and promote employee well-being...
Return on Investment: Corporations realized $3-$6 in savings for every $1 invested in wellness programs.
Reduce Heath Care costs: Well designed programs offer a 25% average reduction in health-care costs.
Improve the bottom line: Companies that offer yoga and wellness programs reduce annual health insurance premiums.

*(American Journal of Health Promotion).
Additional Employee Workplace Benefits Include:
Improves concentration, decision-making skills and ability to multi-task
Reduces multiple costs of stress-related illnesses and absenteeism
Improves alertness and productivity
Promotes calmness in demanding situations
Relieves head, neck and back strain, carpal tunnel syndrome, insomnia, high blood pressure and work-related injuries from repetitive motion and/or lifting and moving objects
Creates better customer service
Enhances employee attitude and outlook
Reduces employee turnover.
Yoga for Any Group or Occasion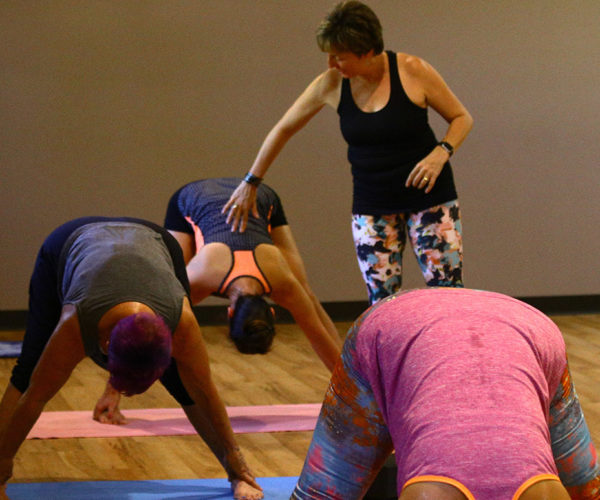 Our onsite yoga and relaxation programs can easily be created for groups such as:
Corporations
Military
Schools
Apartment complexes Senior Centers
Weddings/ Wellness Events Sports teams and more!
Low Corporate/Group Rates
Single class to annual agreements available NOW – Please call to discuss pricing.  Prices are based on amount of classes purchased and duration of any contract.  Please contact us at 480.632.7899 for more details.
Pricing includes highly experienced instruction from a Master Yoga Teacher and any mat rentals.
No space to offer classes at your premises? Let us tailor a custom program for you!