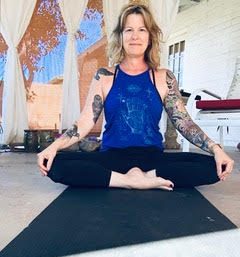 Dusty has been teaching yoga since 1999 and teaching dance since she could drive.  Dancing was her world until an injury took her out of that world and propelled her into another.  She discovered yoga which brought a combination of movement and steadiness that she was longing for. The practice allowed her to see that being "perfect" is a façade.
Dusty is certified in the Barkan Hot Yoga Method, Amrit Yoga along with being a certified Integrative Nutrition Health Coach. Time only strengthens her desire to learn more about the different traditions of yoga.  She has certificates in Trauma informed Yoga, along with Intro to Yin Yoga and Senior Yoga training.
Dusty's teaching weaves movement and meditation together with attention on alignment.  She brings her energetic personality to every practice and reminds you to listen to your body, stop pushing, slow down and breathe.