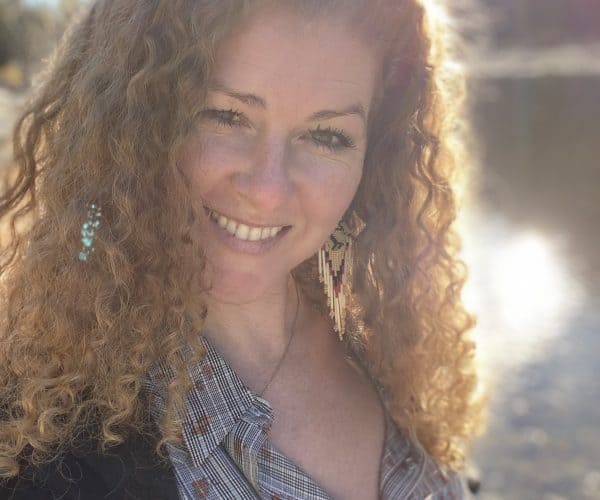 Robin Afinowich started her yoga practice at 16 years old at the advice of a healing mentor who encouraged her to develop a more compassionate and accepting relationship with her body and mind.  Her foundation in yoga was for healing and empowerment and it led her on a journey of discovery, self-care, and self-actualization that has been a non-negotiable way of life ever since.
Robin's teaching is informed by many teachers, and many paths; Iyengar, Ashtanga, Anusara, Restorative, Bioenergetics, Qigong, and her advanced 500hr certifications are in Tantra lineage.  Her keen attention to energetics, anatomy, and alignment creates a safe and exploratory space for all bodies.  She holds an MS in Clinical Psychology and Mental Health Counseling and her vast knowledge of the mind-body connection, philosophy, and contemplative practices add a special depth to her teachings. Robin is a licensed body-based psychotherapist and an educator in Trauma-Informed public health and Healing-Centered care.  She consciously weaves science and soul, stability, and ease into her teaching to create a safe, transformative space to grow.
Robin is one of my most trusted guides throughout my practice. Not only is she nurturing, but creative, intuitive, and intentional. I am always amazed at her capacity to meet my needs, to help me to soothe my physical aches, and also my mental and emotional needs. Robin is a beautiful woman in every way who doesn't take herself too seriously but rather encourages the pursuit of living a blissful life at a higher level. She is a gift to all who know her. She is Yoga.  – Jennifer B.
What Robin does is transformative, and her style is a blend of its own.  Many teachers can teach us the poses and the alignments, but there is something special that Robin brings, from the inside, it is clear that she has a value for the inner experience of yoga.  Robin cares genuinely about your connection to yourself.  She has no end to this readiness to serve those she teaches;  whether it be through the imparting of her wisdom, the sharing of her expertise in leading the movements, bringing out props or blankets for those she sees who need assistance, gentle hands-on guidance or correction, or the natural peaceful energy she imparts through her presence alone.  Robin's impact is a powerful one – through the subtle use of grace. –  Kathleen G."